Very high impact resistance
Excellent thermal insulation
B2 / Class 1Y / UL 94 HB fire rated
Easy to cut & machine
Chemical resistant
Lightweight
Operational temperature -40C, +120C
Excellent light transmission
UV resistant
Outstanding weatherability
Can be cold bent
Reduces noise transmission
Hail resistant
On site machining
Policam: First polycarbonate multiwall sheet of Turkey
POLICAM polycarbonate sheets were first produced in Turkey in 1998 by IŞIK PLASTİK. Since then the brand has won a deserved reputation with its quality and 10 years warranty. Every year over 2 million sqm (100 footbal stadium) POLICAM polycarbonate multiwall sheets are shipped in Turkey and to 25 countries in Europe, Africa, Asia and America.
7 and 9 walls structured Climax Serie was introduced in 2013
2 new Omipa lines of 15 tons/day capacity each, have enlarged the product range with 7 wall 16&20 mm and 9 wall 25&32 mm structered panels. With their strengthened structure, these panels offer increased durability and loading capacity with reduced deflection. With their good heat retention values, our CLIMAX serie gives buildings the best performance in energy efficiency.
We do not only supply polycarbonate, we deliver turnkey projects
Thanks to our solution partners we were able to deliver many turnkey projects since 1998. From design to build, following the site assesment, in collaboration with our partners we design and build the supporting structure, supply polycarbonate sheets (cut to size if necessary), aluminum, steel and polycarbonate profiles, epdm seals and make installations at the project sites with our experienced teams.
Conform GOST and TSEK standards
POLİCAM polycarbonate multiwall sheets meet the stringent safety regulations and standards of Russian GOST R and Turkish Standard Institute's TSEK.
Our latest Climax Serie is constituted of Z shape 7 walls UVprotected and 9 walls structered sheets which offer exceptionally high thermal insulation. The Climax Serie is available in 16 and 20 mm thicknesses with 7 walls and 25-30 mm with 9 walls.
These energy efficient sheets provide as low as 1.25 W/m2K heat transition coefficient which guarantees more than 20% energy saving over traditional twin walls.
Thickness: 7W 16-20 mm, 9W 25-32 mm
Standard sizes: 2100×6000 mm, 980×6000 mm
Colors: Clear, Opal, White
Multimillion dollar modern greenhouses tend to use more polycarbonate sheets in their exterior walls and they are right.
Their advantages are:
• More insulation to save on heating costs
• High resistance against heavy wind and weather
• Hail resistant
• No passage to rodents
Thickness: 3W 14-16mm, 4W 8-10 mm
Standard sizes: 2100×6000, 2100×12000 mm
Colors: Clear, Opal, White, Bronze, Blue, Green, Turqoise, Opaque Gray, Red
Our conventional twin wall sheets are still the best sellers in our product range. They provide the largest color range.
Thickness: 4-6-8-10 mm
Standard sizes: 2100×6000, 2100×12000 mm
Colors: Clear, Opal, White, Bronze, Blue, Green, Turqoise, Opaque Gray, Red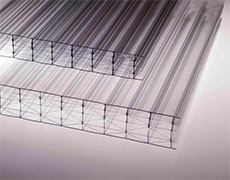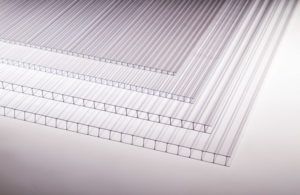 In the beginning of 90's, Turkish sign makers have discovered polycarbonate multiwall sheets and the sales of thin sheets have boosted. POLİCAM serves the sign industry with 4 and 6 mm thick sheets and is the market leader. Hollow structure creates perfect light diffusion and makes it cheapest and perfect material for illuminated signs.
Thickness: 4- 6 mm
Standard sizes: 2100×6000, 2100×12000 mm
Colors: Clear, Opal, White