Policam Polycarbonate sheets continue to be one of the best options for fire safety. Due to this safety specification, our sheets are used widely in lightening, electrical & mechanical applications and in building construction. Thanks to its high temperature resistance (maximum continuous working temperature 266°F) polycarbonate is increasingly used in today's lighting fixtures in public constructions for the highest level of safety.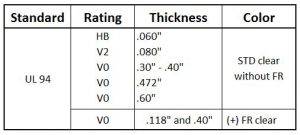 Policam Polycarbonate standard sheet is self-extinguishing and have a high fire rating B1 / Class 1Y / UL 94 HB and V
Policam manufactures FR graded sheets as well, for extreme conditions, to provide maximum fire safety in various applications.
Please ask the best solution for your special projects to your representative or contact us for a quick reply.